Introducing Faroe Islands
The forgotten Faroes are just a short flight from the UK, yet they're way off the standard traveller's radar. Adrift in the frothing swells of the north Atlantic, this mysterious 18-piece jigsaw puzzle of islands is at once ancient and very modern. Multicoloured cottages and grass-roofed wooden churches add focus to the grandly stark, treeless moorlands. Timeless networks of cairn-marked footpaths crisscross craggy layer-cake mountains. But even the tiniest once-inaccessible hamlets are now linked by a remarkable series of road-tunnels. And even as you bob around the dramatic fjords on a 70-year-old wooden sloop, your mobile phone is never likely to lose its signal.
The Faroes are a paradise for fell-walkers and ornithologists who accept the pyrotechnically unpredictable climate. Designer-mown by shaggy sheep, fields are blissfully bouncy under-foot. Pastures gleam with the greener-than-green hue of divine billiard tables. Peeping puffins, dive-bombing skuas and wheeling fulmars glide over dizzying chasms. Wave-battered headlands end in plunging cliffs that are as breathtaking as the wild winds that threaten to blow unwary hikers off them. Streymoy is the biggest island of the group, and home to the capital Tórshavn, as well as dramatic scenery galore and the unmissable bird cliffs of Vestmanna. While the Southern Islands aren't quite so dramatic in terms of landscape, islands like Suðuroy and Skúvoy are appealingly low on tourists and high on friendliness.
Location and size
Situated in the heart of the Gulf Stream in the North Atlantic at 62°00'N, the Faroe Islands lie northwest of Scotland and halfway between Iceland and Norway. The archipelago is composed of 18 islands covering 1399 km2 (545.3 sq.miles) and is 113 km (70 miles) long and 75 km (47 miles) wide, roughly in the shape of an arrowhead. There are 1100 km (687 miles) of coastline and at no time is one more than 5 km (3 miles) away from the ocean. The highest mountain is 882 m (2883 ft) above sea level and the average height above sea level for the country is 300 m (982 ft).

Climate

The weather is maritime and quite changeable, from moments of brilliant sunshine to misty hill fog, to showers. The Gulf Stream encircling the islands tempers the climate. The harbours never freeze and the temperature in winter time is very moderate considering the high latitude. Snowfall occurs, but is shortlived. The average temperature ranges from 3°C in winter to 11°C in the summer. In sheltered areas, the temperature can be much higher, but the air is always fresh and clean no matter what the season.

Population

The population is 48.520 (1st April 2008). About 19,400 people live in the metropolitan area which comprises Tórshavn, Kirkjubøur, Velbastaður, Nólsoy, Hestur, Koltur, Hoyvík, Argir, Kaldbak, Kaldbaksbotnur, Norðradalur, Syðradalur, Hvítanes, Sund, Kollafjørður, Signabøur and Oyrareingir, while about 4,700 people live in Klaksvík, the second largest town in the Faroe Islands.

Form of Government

Since 1948, the Faroe Islands have been a self governing region of the Kingdom of Denmark. It has its own parliament and its own flag. It is not, however, a member of the European Union and all trade is governed by special treaties.

Languages Spoken
Faroese is the national language and is rooted in Old Norse. Nordic languages are readily understood by most Faroese, and English is also widely spoken, especially among the younger people.

Religion

Religion plays an important part in Faroese culture and over 80% of the population belong to the established church, the EvangelicalLutheran. 10% of the population belong to the Christian Brethren (Plymouth Brethren).

Industry

The fishing industry is the most important source of income for the Faroes. Fish products account for over 97% of the export volume. Tourism is the second largest industry, followed by woollen and other manufactured products.
Background:The population of the Faroe Islands is largely descended from Viking settlers who arrived in the 9th century. The islands have been connected politically to Denmark since the 14th century. A high degree of self government was attained in 1948
Location: Northern Europe, island group between the Norwegian Sea and the North Atlantic Ocean, about half way between Iceland and Norwa.
Area: total: 1,399 sq km, land: 1,399 sq k.
Maritime claims: territorial sea: 3 nm; continental shelf: 200 nm or agreed boundaries or median line; exclusive fishing zone: 200 nm or agreed boundaries or median line.
Climate: mild winters, cool summers; usually overcast; foggy, wind.
Terrain: rugged, rocky, some low peaks; cliffs along most of coas.
Elevation extremes: lowest point: Atlantic Ocean 0 m; highest point: Slaettaratindur 882 m.
Natural resources: fish, whales, hydropower, possible oil and gas.
Land use: arable land: 2.14%; permanent crops: 0%; other: 97.86% (2005).
Environment - international agreements: party to: Marine Dumping - associate member to the London Convention and Ship Pollution.
Geography - note: archipelago of 17 inhabited islands and one uninhabited island, and a few uninhabited islets; strategically located along important sea lanes in northeastern Atlantic; precipitous terrain limits habitation to small coastal lowlands.
Population: 48,856 (July 2009 est.).
Age structure: 0-14 years: 21.6% (male 5,451/female 5,108) ; 15-64 years: 64% (male 16,708/female 14,544) ; 65 years and over: 14.4% (male 3,324/female 3,721) (2009 est.).
Median age: otal: 36.9 years ; male: 36.3 years ; female: 37.7 years (2009 est.).
Population growth rate: 0.397% (2009 est.).
Birth rate: 13.04 births/1,000 population (2009 est.).
Death rate: 8.67 deaths/1,000 population (2008 est.).
Net migration rate: -0.41 migrant(s)/1,000 population (2009 est.).
Urbanization: urban population: 41% of total population (2008) ; rate of urbanization: 2% annual rate of change (2005-10 est.).
Sex ratio: at birth: 1.07 male(s)/female ; under 15 years: 1.07 male(s)/female ; 15-64 years: 1.15 male(s)/female ; 65 years and over: 0.89 male(s)/female ; total population: 1.09 male(s)/female (2009 est.).
Infant mortality rate: total: 6.32 deaths/1,000 live births ; male: 6.56 deaths/1,000 live births ; female: 6.06 deaths/1,000 live births (2009 est.).
Life expectancy at birth: total population: 79.44 years ; male: 77 years ; female: 82.05 years (2009 est.).
Total fertility rate: 2.44 children born/woman (2009 est.).
Nationality: noun: Faroese (singular and plural) ; adjective: Faroese.
Ethnic groups: Scandinavian.
Religions: Evangelical Lutheran 83.8%, other and unspecified 16.2% (2006 administrative data).
Languages: Faroese (derived from Old Norse), Danish.
Literacy: probably 99%, the same as Denmark proper.
Country name: conventional short form: Faroe Islands ; local short form: Foroyar.
Dependency status: part of the Kingdom of Denmark; self-governing overseas administrative division of Denmark since 1948.
Capital: name: Torshavn ; geographic coordinates: 62 01 N, 6 46 W ; time difference: UTC 0 (5 hours ahead of New York NY, during Standard Time) ; daylight saving time: +1hr, begins last Sunday in March; ends last Sunday in October.
Administrative divisions: there are 34 municipalities.
National holiday: Olaifest (Olavasoka), 29 July.
Constitution: 5 June 1953 (Danish constitution).
Legal system: the laws of Denmark, where applicable, apply.
Suffrage: 18 years of age; universal.
Executive branch: chief of state: Queen MARGRETHE II of Denmark (since 14 January 1972), represented by High Commissioner Birgit KLEIS, chief administrative officer (since 1 November 2001) ; head of government: Prime Minister Kaj Leo JOHANNESSEN (since 26 September 2008) ; cabinet: Landsstyri appointed by the prime minister
elections: the monarch is hereditary; high commissioner appointed by the monarch; following legislative elections, the leader of the majority party or the leader of the majority coalition is usually elected prime minister by the Faroese Parliament; election last held 19 January 2008 (next to be held no later than January 2012) ; election results: Joannes EIDESGAARD elected prime minister; governing coalition collapses in September 2008, Kaj Leo JOHANNESSEN becomes Prime Minister.
Legislative branch: unicameral Faroese Parliament or Logting (33 seats; members are elected by popular vote on a proportional basis from the seven constituencies to serve four-year terms) ; elections: last held 19 January 2008 (next to be held no later than January 2012) ; election results: percent of vote by party - Union Party 21%, Social Democratic Party 19.4%, Republican Party 23.3%, People's Party 20.1%, Center Party 8.4%, Self-Government Party 7.2%, other 0.6%; seats by party - Republican Party 8, Union Party 7, Social Democratic Party 6, People's Party 7, Center Party 3, Independence Party 2 ; note: election of two seats to the Danish Parliament was last held on 13 November 2007 (next to be held no later than November 2011); results - percent of vote by party - NA; seats by party - Republican Party 1, Union Party 1.
Political parties and leaders: Center Party [Jenis A. RANA]; Independence Party [Kari P. HOJGAARD]; People's Party [Jorgen NICLASEN]; Republican Party [Hogni HOYDAL]; Social Democratic Party [Joannes EIDESGAARD]; Union Party [Kaj Leo JOHANNESEN].
Political pressure groups and leaders: Sea Shepard [Paul WATSON] (preservation of small whales) ; other: conservationists.
International organization participation: Arctic Council, FAO, IMO (associate), NC, NIB, UPU.
Flag description: white with a red cross outlined in blue extending to the edges of the flag; the vertical part of the cross is shifted toward the hoist side in the style of the Dannebrog (Danish flag).
Economy - overview: The Faroese economy is dependent on fishing, which makes the economy vulnerable to price swings. The sector accounts for 95% of exports and nearly half of GDP. Since 2003 the Faroese economy has picked up as a result of higher prices for fish and for housing. Unemployment is minimal and government finances are relatively sound. Oil finds close to the Islands give hope for economically recoverable deposits, which could eventually lay the basis for a more diversified economy and lessen dependence on Danish economic assistance. Aided by a substantial annual subsidy (about 15% of GDP) from Denmark, the Faroese have a standard of living not far below the Danes and other Scandinavians..
Disputes - international: because anticipated offshore hydrocarbon resources have not been realized, earlier Faroese proposals for full independence have been deferred; Iceland, the UK, and Ireland dispute Denmark's claim that the Faroe Islands' continental shelf extends beyond 200 nm.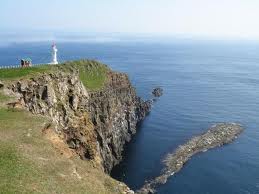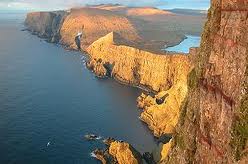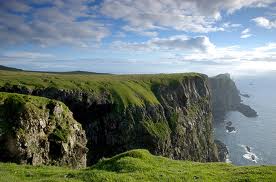 Views of Faroe Islands.